DMC-2 Constellation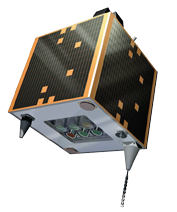 Figure 1 - Illustation of Deimos-1 spacecraft (image credit: Deimos Imaging)
About the mission/sensor
The Second Generation of the Disaster Monitoring Constellation (DMC) is an international joint effort from space agencies and space industry. This Earth Observation constellation comprises multiple microsatellite satellite equipped with different optical sensor.
The Surrey Linear Imager Multispectral 6 channels (SLIM-6-22) multispectral camera, on board of both the UK-DMC-2 and the Deimos-1 microsatellites, provides wide-swath images at 22 meter GSD under Red, Green and NIR channels. Also the Algeria Satellite-1B (AlSat-1B) microsatellite of the Algerian Space Agency (ASAL) is part of the DMC constellation but carries a different sensor, the Algerian Imager Telescope (ALITE), which is a medium-resolution, panchromatic, and multispectral sensor. This sensor, designed from ALSAT and SSTL, is able to acquire images with different GSD, 12 meter for panchromatic and 24 meter for multispectral (blue, green, red, and NIR) bands.
Example
Below are given examples of STAC item metadata and assets for a sample UK-DMC-2 product acquired for the Charter.
Item metadata
Metadata
platform
uk-dmc-2
constellation
dmc-2
mission
uk-dmc-2
instruments
slim-6-22
Date/Time
start datetime
2019-12-24T11:48:14Z
end datetime
2019-12-24T11:49:04Z
Projection
epsg
16121
View
azimuth
0.0
sun azimuth
109.8601882114
sun elevation
28.74072894832
incidence angle
14.1253288181
Assets
Band NIR
name
NIR
common name
nir
center wavelength
0.0
description
NIR radiance in W/m2/sr/m-6
scale
0.8014434197193457
offset
9.843282527378852
Band Red
name
Red
common name
red
center wavelength
0.0
description
Red radiance in W/m2/sr/m-6
scale
0.6848434480074131
offset
8.130843703135659
Band Green
name
Green
common name
green
center wavelength
0.0
description
Green radiance in W/m2/sr/m-6
scale
0.6453470168858088
offset
14.671118669878258
References
[RD01] - DMC Data Product Manual Version 2, DMCII Ltd., Issue 02, Date of issue: 12.02.2010
[RD02] - DMC Data Product Manual, DMCII Ltd., Date of issue: 27.06.2008
Reference Websites
[RW01] - Surrey Ltd. DMC 2G constellation website
[RW02] - ALSAT-1B ASAL official website
[RW03] - DMC International Imaging Ltd. official website
[RW04] - Airbus DMC constellation website